Friday, September 08, 2006
Burton House Page 2
First things first, we need incomes. Checking everyone's aspirations and LTW, I immediately have 4 out of 6 with jobs. Cal & Shannon are both romancers who want to be Professional Party Guests and luckily there is a slacker position open for them. Next we have two pleasure seekers and as luck would have it they both want 50 dream dates, there is also the criminal track open so they're both crooks. Tammie is family and an elder, so I wont bother getting her a job, and Kelly is a popularity who wants 20 best friends at the same time so we'll keep her home making friends for the rest of the household. Strategy is in place; let's see what kind of damage we can do.
Cal & Shannon are engaged… wait… what? They're both romance, why would those two be engaged? (shaking head) Okay well let's just have them do a quick date and oops… I clicked the wrong button… was that a lullaby I just heard? That would explain why Shannon always looks at me like that.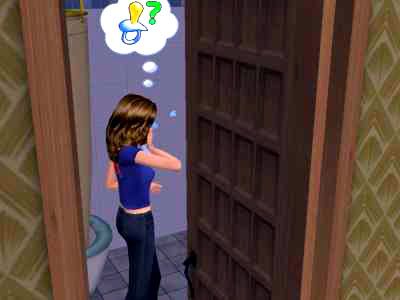 Not to be outdone, a few days later Jackie manages dream date #1 with Cal and oops… did I do that again?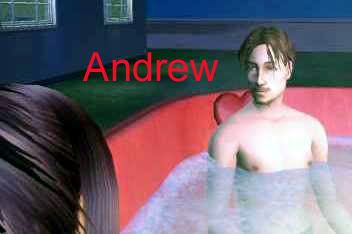 My usual strategy, if someone walks by stop them and greet them. Andrew is their first visitor. He's a brave sort. He was on the welcoming committee at
the Dante house
, now he's visiting the Burtons. I wonder if he will be at the Vega house next.
Ashley needed a date so the gypsy lady found her Jason Daily, loosely related to a certain
Judge Clyde Daily
. Theirs was not a dream date, but they got along well enough for future dates.
page 3
Comments:
omg, you are going to impregnate all the sisters with cal aren't you...clicking on next page now.
~Spongey Tanu
Post a Comment
Links to this post:
<< Home