Saturday, September 02, 2006
Dante House pg. 2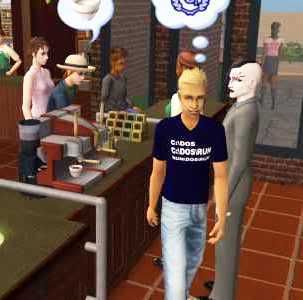 I tried having the Dante family live on the lawn. That didn't work out too well and money was very tight. Leeland was forced to get a job and I took Liza downtown to work at Barnes & Noble as a barista. I was hoping she could meet a few men that may take pity on her and move in to help with finances. Liza is not a well liked sim and making money this way was slow and painful. Although I had a great time watching who came in to the shop for coffee, books and camaraderie! Do you recognize anyone? I believe that is Xuan Robbins and Marilyn Manson behind him.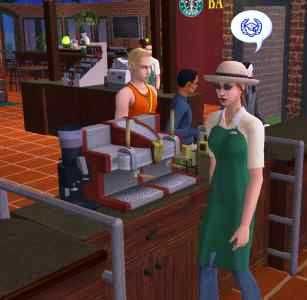 Oh look there's Quavi Robbins!
It was soon after returning from downtown that I found out Liza was pregnant. Well that won't stop her from meeting more men. She tries that mailman but he's not too impressed.
Leeland and Sasha bring home friends. They chose my son, Franz and my daughter's best friend Morgan. Quick Leeland, talk with Morgan, you're a romance sim and you sure could use some aspiration points.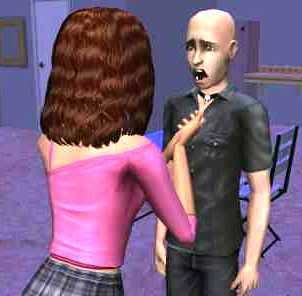 Didn't your mother ever tell you if you make faces, its sure to freeze like that?
Page 3